Exciting stuff going on around here. First of all, the LAFSC staff is picking 5 directors to direct scripts this semester. There are 48 students and I am one of the 9 finalists that is being considered. They liked my reel and I was interviewed the other night. My reel consisted of clips from:
The Pen
,
The Eddie Complex
, and a scene from
When Harry Met Sally
that I did for directing class, as well as the
Picture Frame
super short in it's entirety. So, what I'm saying is, I think my reel is funny but it is definitely ridiculous. However, I guess the staff thought it was funny as well (or maybe they just liked that I have worked with HD and 16mm film before). I'll keep you updated as to whether I make the next cut.
Yesterday I went to Burbank and protested with the WGA writers. I walked around the NBC studio with a sign and got people to honk and then ate some free fruit snacks they provided. I didn't see any celebs but one of the strikers was a writer for the show
Smallville
. Here I am all like, c'mon Leno, get with the program bro.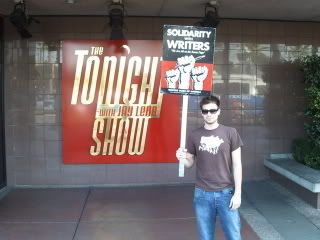 Also, I have an awesome picture as my current facebook profile picture, so check it out.
"Well you are the luckiest person I know. Let's hope it doesn't run out by tomorrow."