Happy 22nd birthday Ashlea!
Inappropriately, here's a picture from my birthday two years ago, but you get the idea. Party hats.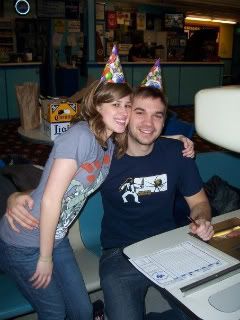 Yesterday I temped for the first time. I went to the Fox building in Beverly Hills and emptied drawers into boxes, then on Monday I will return to put those boxes of files back into different cabinets. I only worked a couple hours because my co-temp and I did the job pretty fast but I was making $15 an hour so I made a little bit of spending money. It was a boring office proving there are many (probably mostly) boring office jobs in the entertainment biz.
Last night a few of us went to Universal City which is an outdoor mall type place before the entrance to Universal Studios theme park. That just made me want to go to Universal Studios theme park. I ate an enormous cookie at Bubba Gump.
Here's a very, very early Oscar prediction. I predict that Heath Ledger is going to win Best Supporting Actor for playing the Joker in
The Dark Knight
. I know you're saying "duh, Pete", but here's the twist. I predict that Daniel Day Lewis will accept the award on his behalf. At last year's awards shows, SAG and Oscars, Daniel Day said very nice things about Heath Ledger about how much he respected him, etc.
The Pastor Jones screenplay is going well. I am hopefully going to finish this weekend. I want to deliver the script by Thursday of this week. I'm also trying to work on some ideas for the next Pastor Jones movie so I can get another job with Nu-Lite. Pastor Jones Goes to Camp? Alien vs. Pastor Jones? James and the Giant Pastor Jones? You Don't Mess with the Pastor Jones? The Love Guru 2: Pastor Jones? The possibilities are endless.
WALL-E
and
Wanted
come out today. I would see
WALL-E
but I'm not rushing out to see it, but
Wanted
looks awesome.