It would be an awesome birthday present if someone could get me tickets to the sold out February 16th Cobra Starship show in West Hollywood. Just putting it out there, I don't know if it's possible. Some cool people would probably show up.
I might be getting an internship at John Malkovich's production company Mr. Mudd. The internship coordinator here sent them my resume. They have produced
Ghost World
,
Art School Confidential
, and
Juno
among others. Even though I have mixed feelings about those movies I appreciate the kind of humor they represent because it is similar in tone to the kind of stuff I write. Also, I think I'll just enjoy being around screenplays. That's why I liked working at Blockbuster, to just be around movies and breathe them in (and get free rentals). Here's one of their website's pictures: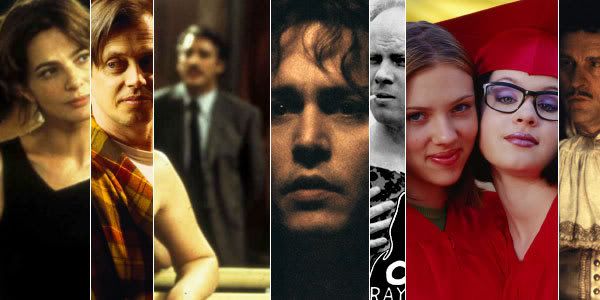 I might have an interview there next week. I'll keep you updated.
I am doing very well with my 366 movies so far. Maybe a little too well. I'm watching about two movies a day because I'm not really going out that much and school work hasn't quite gotten into full gear yet. So far today I've watched
The Big Lebowski
, which I really didn't think was very funny at all, and
X-Men: The Last Stand
which was not that great the second time but still had it's charms. I might be seeing
Sweeney Todd
later for the second time but it's a really good movie so that's cool with me.
Well I'll be out here in LA until further notice but you might see me at some point "if I'm... in the neighborhood and I, uh... gotta use the john."