Last night Ashlea and I went to the
Pineapple Express
world premiere. Before the movie we stood outside and watched the red carpet. I got my "Freaks and Geeks" DVD boxed set autographed by Judd Apatow, James Franco, and Seth Rogen. When Judd saw the DVDs he said "That's a good one" and I said "Yeah."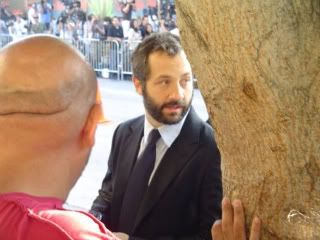 At the premiere we saw: Judd, James, Seth, Danny McBride (
Foot Fist Way
,
Drillbit Taylor
), Joe Lo Truglio (
Wet Hot American Summer
), Evan Goldberg (co-writer of
Superbad
and
Pineapple Express
), a bunch of other members of the cast like ROsie Perez and the guy who played the jerky boss on
Office Space
, Daniel Craig (everyone went nuts), Jim Carrey with Jenny McCarthy, Jack Black, Kanye West, Lloyd and the publicist from Entourage, Jon Voight (it was sad that the little girls around me knew him as Angelina Jolie's Dad), Wes Chatham (had the greatest line in
In The Valley of Elah
), Channing Tatum, Stanley from The Office, Ash saw Meredith from The Office and the woman who plays Jeremy Piven's wife on Entourage, Leslie Mann, Jonah Hill, Amber Heard, RZA, Emile Hirsch, and I talked to Jeff Garlin ("Curb Your Enthusiasm" and the voice of the Captain in
Wall-E
) but he seemed like he didn't want me to blow up his scene because he wasn't on the red carpet. I also saw the drug dealer from
The Rules of Attraction
and maybe Skeet Ulrich from
Scream
. And some others, Ash do you remember anyone else?
Here are some of the better pictures we took:
http://www.facebook.com/album.php?aid=2150099&id=18400313
Then, to top it off we got into the movie for free because they handed out ticket right near us and I snagged two. There were two theaters playing it at the same time. We were in the one with Stanley and Channing Tatum and Skeet. The movie was really good but it wasn't anything compared to
Superbad
.
I'll post pictures of my ticket and my signed DVDs soon.
I was supposed to turn in my latest script to Nu-Lite today but they never called. I hope I can handle that on Monday.