I'm going to cover a lot of things in random order in this post.
I wish that I had bought JohnMcCain.com a few years ago so I could sell it back to him for so much money.
Don't you hate it when you go to click on the iPhoto logo on your MacBook's tray and you accidentally hit the iTunes logo??!?!?!?!??! ARGHHHHHH!!!
I might join a writer's group with my former mentor at my internship with Mr. Mudd. He said they meet once a week and they read each other's stuff, set deadlines, talk about working on future projects, etc. I think all of that sounds awesome.
As some of you may know I have been carrying around the same brand of pen in my left pocket since middle school (blue Bic round stic, medium of course) in case I ever need to write something, or I have an idea, or a hot lady asks if she can borrow a pen, etc. However, you may not know that I also usually carry around a pad of paper. Tonight I am officially retiring three proud soldiers.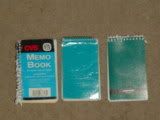 The third one has a drink ring on it.
I am going to type up everything I wrote in them into one huge file and save it on my computer forever but I'm still going to keep the actual notebooks somewhere. I really need a filecabinet if anyone if getting rid of one.
Here are a few gems (aka dumb jokes or observations) from my notebooks:
- "Why do ugly people go to public places to make-out?"
- "The first time you see certain people in their winter hats they look ridiculous" (It's true)
- "I took a urine test today... I hope they don't want it back" (Zing)
- A list that contains the following movies:
Beetlejuice
,
Antwone Fisher
,
Amelie
, and
Back to the Future
- A list of characters including: A racist guy who always punctuates his comments with "You know what I mean?" and "Am I right?"
- A page in the notebook is blank except for the words "funeral comedian" and a question mark
- A character idea for a guy who's never been to a Subway sandwich shop AND who can't read (I felt like I was trapped behind that guy once. I hate being there when people first try out a restaurant. They're like "wait, I have to tell you what to put on my sandwich?")
- Jean-Claude LaMarre aka Pastor Jones' phone number (to the highest bidder!!)
- Just the words "booger silhouette"
I obviously didn't just give away any of the really good ones because I am probably going to use them in movies/ real life conversations so people think I'm so clever off the cuff.
I don't think I ever explained the second movie that I wrote for Nu-Lite Entertainment. They did a movie called
Johnson Family Dinner
that is not in any way related to Ice Cube's
Johnson Family Vacation
. I'm pretty sure they were hoping that they could trick people into thinking that they were the same Johnson Family though. I never saw Ice Cube's one but it would have to be better than Nu-Lite's
Dinner
. I would suggest watching
Dinner
the way I did, with a buddy, drinking wine, and taking notes. But anyway, I don't want to slam
Dinner
, just watch it and judge for yourself, it's not even really like a movie.
But anyway, I was contracted to write the sequel:
Johnson Family Christmas
. I never thought that I would write a Christmas movie, much less one about an upper middle class Black family but I can honestly say the script turned out pretty good. If you want to read it message me or e-mail me and I'll send it to you in PDF form.
The exciting thing is that Nu-Lite is supposedly going into pre-production on it right now and it may be out by this Christmas. So log on to www.BlackChristianMovies.com and buy the straight to DVD movie of my first produced feature screenplay
Johnson Family Christmas
when it gets made and released. Life is funny, but sometimes not ha-ha funny.
I'm watching the Olympics and Michael Phelps just won his 172nd gold medal. This one was in archery actually. Just kidding it was actually in a new event I guess where he had to type 400 instant messages the fastest or something. That would be maybe funnier if there weren't actually a competition for the fastest text messager.
I need a job soon, not really monetarily speaking yet because I am an online auctioneer (I sell stuff on eBay) and I write screenplays for a couple dollars here and there, but mainly because I'm getting stir crazy. I have some good leads right now though, more on that in the future.