On Monday Ash and I went to a Gym Class Heroes concert video shoot. On the downside it was for Wal-Mart and apparently you'll be able to see the video on some new Wal-Mart website/ in Wal-Mart stores which is stupid and I hardly ever go to Wal-Mart. But Travis just joked about how you might see yourself on the video when you're buying "underwear or whatever."
The upside was that the concert was free and Ash and I both got our Gym Class Heroes t-shirts autographed by the four band members I first saw perform a few years ago: vocals Travis McCoy, drummer Matt McGinley, guitarist Disashi Lumumba-Kasongo, and bassist David Haik (see picture, guy on the far left):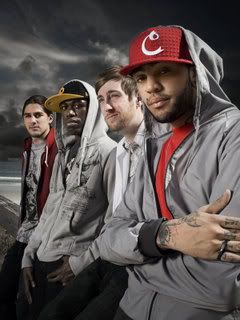 sike, the bassist's name is Eric Roberts but right?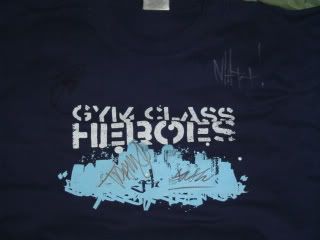 the shirt
They only played a couple songs but they hung out afterwards and it was a cool time. I'll post the video once it comes out whenever that is.
I had to revise the
Johnson Family
script once again. Again it wasn't for story or dialogue reasons but because they couldn't find casting. Instead of Lil' Sam I wrote a character named Scooter and now because they couldn't find a little boy I rewrote it as a little girl name Elisa. It really only changed her name and I had to make some hes into shes but it was still annoying.
I went to Central Casting today and registered to become a paid extra (aka background actor). We'll see how that goes.
Here's a picture of Ashlea and my roommate's cat Eva (presumably named after the girl robot from Wall-E):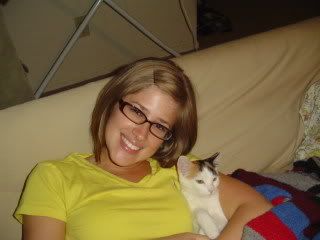 "Girl robot" is probably an oxymoron.
I have my first writer's group meeting tonight with my mentor from Mr. Mudd and some other writers. I guess they have to accept me into the group. I don't know. I'll keep you posted about that.
FYI,
Lucky # Slevin
was a cool movie.