Lots to say.
I extra-ed on the show "Do Not Disturb" on Tuesday. It seems like that show will be very hit and miss. It has Jerry O'Connell and the lady from Reno 911 on it, but it also has Dave Franco, James Franco's little brother, on it. Dave had one line in
Superbad
and stars in these online videos:
But Dave seemed to have a pretty funny character on the show. One of the actors, Jesse who plays Larry, came over and talked to me, saying I looked familiar. I probably had never met him before but it was cool to talk to a series regular.
The coolest thing about that show is that it's filmed in front of a live studio audience so it was like I was performing on stage, even though I was just an extra. The audience was dumb and laughed at the same jokes over and over though.
On Thursday I was an extra on "Samantha Who?" so I was right next to Christina Applegate and Barry Watson (7th Heaven!!! and
Teaching Mrs. Tingle
) all day.
This is out of order but, on Wednesday I got my first DVDs to transcribe from "Intervention." I'm going to start doing that and when I have time I'll be an extra for extra money. I'm also definitely going to keep selling on eBay because I've been making some serious scratch lately. The "Intervention" footage is tough to transcribe because hicks are hard to understand and everybody talks at once. I signed a confidentiality agreement though so I can't say too much about that.
I got some more money from Nu-Lite on Friday, they still owed me from "Johnson Family Christmas" and they STILL owe me some more because they paid me the wrong amount. They said oh, OK, we'll send you a check on Monday. They could have sent me a check for the whole amount a month ago!!
Whatever.
Nothing can get me down because I saw and experienced the
Meet Dave
giant head the other day.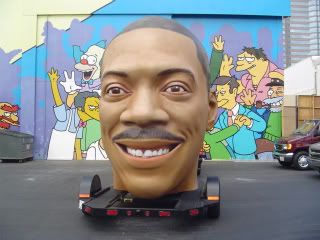 EDIT: Ash and I saw
Burn After Reading
the other night (it was good) in Sherman Oaks and afterward in the parking lot we saw Josh Peck aka Josh from "Drake and Josh" and the star of the movie
The Wackness
and he looked really drunk... or something. I was like "Hey, it's Drake or Josh!!"