I'm pretty much done with the script. I'm going to send it to the producer tomorrow and she's going to read it and see if it needs any work then we're going to meet next week so she can pay me. She's in the casting process.
I'm going to Las Vegas tomorrow to stay with Corey Reid and hang with Drew P and Heather. I'm looking forward to that. Heather and Drew are riding back to LA with me and staying at my place for a few days then Heather is flying back home and Drew is going to an organic farm. Then Drew is coming back to LA and we're making Pastor Jones. So that's all good.
I sold this Prince shirt for over $50.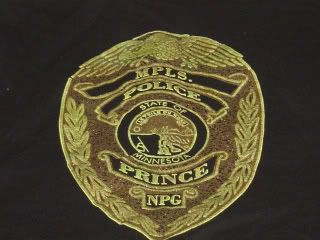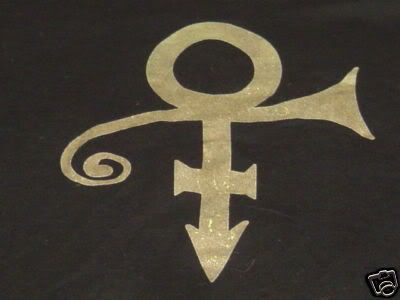 So eBay is going well. I'm going to a few thrift stores today in fact.
When I get back from Las Vegas and the producer has signed off on the script I can start preproduction. I probably won't storyboard because I just draw stick figures anyway (that Steve Holt made fun of) but I'll do detailed shot lists. I have to show Drew
Pastor Jones 4: Sisters in Spirit 2
so he's on the level.
I temped at 20th Century Fox a couple times. I made $15 an hour but they didn't have much for the other temp and I to do. On one day we put files into boxes and on the next working day we took the same files out of the boxes in different locations.
I have so much writing I want to do. I have about 9 loglines, I'm in the middle of rewriting
Happenstances
, I'm perpetually rewriting
Hot Rodney
aka
Life's A Drag
, and I haven't even looked at
Suicide Watch
since LAFSC but I have a lot of ideas for that too. I'm also formulating in my head an Andy from
Suicide Watch
spinoff. That will probably be the next fresh screenplay I write (even though
In Sheep's Clothing
should be at the top of the list always). Hopefully though none of that matters right now and I can write another script for Nu-Lite and get paid more and actually get paid to direct.
Oh yeah, so it's July, half way through the year and I've watched 169 movies (maybe 171 because I watched
There Will Be Blood
and
Cloverfield
twice if we're counting that), so not quite enough to be on track. I need to step up my game. I know that none of you care or want to see this, but:

Movies I've Seen in 2008
All The King's Men (2006) Steve Zaillian
Wayne's World (1992) Penelope Spheeris
Shooter (2007) Antoine Fuqua
Hoop Dreams (1994) Steve James
October Sky (1999) Joe Johnston
Murder By Numbers (2002) Barbet Schroeder
Superbad (2007) Greg Mottola
One Missed Call (2008) Eric Valette
Paris Je T'aime (2006) Various
The Break Up (2006) Peyton Reed
Blue Crush (2002) John Stockwell
Reservoir Dogs (1992) Quentin Tarantino
Star Wars: Episode IV A New Hope (1977) George Lucas
Star Wars: Episode V The Empire Strikes Back (1980) Irvin Kershner
Idiocracy (2006) Mike Judge
Eastern Promises (2007) David Cronenberg
Big Fish (2003) Tim Burton
Do The Right Thing (1989) Spike Lee
Airplane! (1980) Jim Abrahams, David Zucker, Jerry Zucker
Huo Yuan Jia (2006) Ronny Yu
Gangs Of New York (2002) Martin Scorsese
Rushmore (1998) Wes Anderson
Dogville (2003) Lars von Trier
Hooked: The Legend of Demetrius "Hook" Mitchell (2003) William O'Neill, Michael Skolnik
There Will Be Blood (2007) Paul Thomas Anderson *
Cloverfield (2008) Matt Reeves *
The Godfather (1972) Francis Ford Coppola
The Departed (2006) Martin Scorsese
Manderlay (2005) Lars von Trier
Y Tu Mama Tambien (2002) Alfonso Cuaron
Swimming With Sharks (1994) George Huang
The Man Who Wasn't There (2001) Joel Coen
3:10 To Yuma (2007) James Mangold
The Big Lebowski (1998) Joel Coen
X-Men: The Last Stand (2006) Brett Ratner
Eagle vs Shark (2007) Taika Cohen
Saved! (2004) Brian Dannelly
Rocket Science (2007) Jeffrey Blitz
Alpha Dog (2006) Nick Cassavetes
Wayne's World 2 (1993) Stephen Surjik
Star Wars: Episode VI Return of the Jedi (1983) Richard Marguand
Juno (2007) Diablo Cody
Kill Bill: Vol. 1 (2003) Quentin Tarantino
Kill Bill: Vol. 2 (2004) Quentin Tarantino
Barton Fink (1991) Joel Coen, Ethan Coen
The United States of Leland (2004) Matthew Ryan Hoge
The Elephant Man (1980) David Lynch
The King of Kong (2007) Seth Gordon
Visions of Light (1993) Arnold Glassman, Todd McCarthy
Mystery Science Theater 3000: Gunslinger (1993) Joel Hodgson
The Savages (2007) Tamara Jenkins
Hot Fuzz (2007) Edgar Wright
Blade Runner (1982) Ridley Scott
Unbreakable (2000) M. Night Shyamalan
Harold and Maude (1971) Hal Ashby
Fantastic Four: Rise of the Silver Surfer (2007) Tim Story
Dan In Real Life (2007) Peter Hedges
Gone Baby Gone (2007) Ben Affleck
Jumper (2008) Doug Liman
Diary of the Dead (2007) George A. Romero
X-Men (2000) Bryan Singer
The Assassination of Jesse James by the Coward Robert Ford (2007) Andrew Dominik
Once (2006) John Carney
Michael Clayton (2007) Tony Gilroy
We Own The Night (2007) James Gray
Trois Couleurs: Bleu (1993) Krzysztof Kieslowski
Michael Caine: Acting In Film (1989) Michael Caine
The Darjeeling Limited (2007) Wes Anderson
Saw IV (2007) Darren Lynn Bousman
The Limey (1999) Steven Soderbergh
Fargo (1996) Joel Coen
Aqua Teen Hunger Force Colon Movie Film For Theaters (2007) Matt Maiellaro, Dave Willis
Apocalypto (2006) Mel Gibson
Knocked Up (2007) Judd Apatow
A Simple Plan (1998) Sam Raimi
The Talented Mr. Ripley (1999) Anthony Minghella
Lust, Caution (2007) Ang Lee
No Country For Old Men (2007) Ethan Coen, Joel Coen
Lars and the Real Girl (2007) Craig Gillespie
El Orfanato (2007) Juan Antonio Bayona
Awake (2007) Joby Harold
Rendition (2007) Gavin Hood
Sunshine (2007) Danny Boyle
The Amateurs (2005) Michael Traeger
American Movie (1999) Chris Smith
Southland Tales (2006) Richard Kelly
Borderland (2007) Zev Berman
Semi-Pro (2008) Ken Alterman
Bread and Roses (2000) Ken Loach
Best In Show (2000) Christopher Guest
Tooth and Nail (2007) Mark Young
O Brother Where Art Thou? (2000) Joel Coen
Into The Wild (2007) Sean Penn
Crazy Eights (2006) James Koya Jones
The Machinist (2004) Brad Anderson
Wristcutters: A Love Story (2006) Goran Dukic
Sweeney Todd: The Demon Barber of Fleet Street (2007) Tim Burton
Breaking the Waves (1996) Lars von Trier
Walk Hard: The Dewey Cox Story (2007) Jake Kasdan
P2 (2007) Franck Khalfoun
Jackass Number Two (2006) Jeff Tremaine
The Lion King (1994) Roger Allers, Rob Minkoff
Atonement (2007) Joe Wright
The Baxter (2005) Michael Showalter
Forgetting Sarah Marshall (2008) Nicholas Stoller
Alien (1979) Ridley Scott
Wet Hot American Summer (2001) David Wain
The School of Rock (2003) Richard Linklater
Smiley Face (2007) Gregg Araki
Bee Movie (2007) Steve Hickner, Simon J. Smith
Iron Man (2008) Jon Favreau
The Ruins (2008) Carter Smith
I Want Someone To Eat Cheese With (2005) Jeff Garlin
Teeth (2006) Mitchell Lichtenstein
Confessions of a Superhero (2007) Matt Ogens
Billy Madison (1995) Tamra Davis
Jim Gaffigan: Beyond the Pale (2005) Michael Drumm
American Cannibal (2006) Perry Grebin, Michael Nigro
Two Days in April (2006) Don Argott
Zach Galifianakis: Live at the Purple Onion (2006) Michael Blieden
American Pimp (2000) Albert Hughes, Allen Hughes
The Chronicles of Narnia: Prince Caspian (2008) Andrew Adamson
I'm Not There (2007) Todd Haynes
Seven Up! (1964) Paul Almond
Seven Plus Seven (1971) Paul ALmond
Finding Neverland (2004) Marc Forster
Baby Mama (2008) Michael McCullers
Speed (1994) Jan De Bont
Indiana Jones and the Kingdom of the Crystal Skull (2008) Steven Spielberg
What Happens in Vegas (2008) Tom Vaughan
Speed Racer (2008) The Wachowski Brothers
The Strangers (2008) Bryan Bertino
Mission Impossible III (2006) J.J. Abrams
Cassandra's Dream (2007) Woody Allen
Elizabethtown (2005) Cameron Crowe
Sicko (2007) Michael Moore
The Wedding Singer (1998) Frank Coraci
Get Rich or Die Tryin' (2005) Jim Sheridan
Pastor Jones 2: Help Save My Daughter (2006) Jean-Claude La Marre
Cashback (2006) Sean Ellis
The Happening (2008) M. Night Shyamalan
Pastor Jones 4: Sisters in Spirit 2 (2008) Jean-Claude La Marre
Hell House (2001) George Ratliff
Kung Fu Panda (2008) Mark Osborne, John Stevenson
Vince Vaughn's Wild West Comedy Show (2006) Ari Sandel
Funny Games (2007) Michael Haneke
Horror Business (2006) Christopher P. Garetano
An Evening With Kevin Smith (2002) J.M. Kenny
Happiness (1998) Todd Solondz
An Evening With Kevin Smith 2: Evening Harder (2006) J.M. Kenny
Be Kind Rewind (2008) Michel Gondry
Super High Me (2007) Michael Blieden
The Grand (2007) Zak Penn
The Puffy Chair (2005) Jay Duplass
Behind The Mask: The Rise of Leslie Vernon (2007) Scott Glosserman
The Onion Movie (2008) Tom Kuntz, Mike Maguire
Small Town Gay Bar (2006) Malcolm Ingram
In Bruges (2008) Martin McDonagh
Almost Famous (2000) Cameron Crowe
Almost Heroes (1998) Christopher Guest
WALL-E (2008) Andrew Stanton
Film Geek (2005) James Westby
Full Frontal (2002) Steven Soderbergh
Charlie Bartlett (2007) Jon Poll
Spun (2002) Jonas Akerlund
Wanted (2008) Timur Bekmambetov
The Host (2006) Joon Ho Bong
Match Point (2005) Woody Allen
Drillbit Taylor (2008) Steven Brill
It's a pretty good list. I'm probably going to watch
10,000 BC
today too so mark that off on your tally sheet.
Drillbit Taylor
was better than I expected but some parts, like the rap battle, were painful to watch.
Film Geek
is by far the worst movie I've ever seen.
The Host
was so much better than
Cloverfield
.