Last Thursday Ash and I saw an advanced screening of
Role Models
the new David Wain movie that comes out soon. It was funny, there were a lot of familiar faces in it. David Wain, Ken Marino, Joe Lo Truglio, and A.D.Miles introduced the movie before it started. After the movie we saw this character lurking around: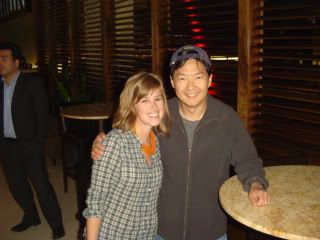 Ken Jeong, the doctor from
Knocked Up
and the King from
Role Models
was hanging out. We talked to him and he was seriously the nicest guy ever. He signed my
Knocked Up
DVD which I happened to have on me. He was super nice, seriously. He was good in the movie too.
After that Ash and I headed towards our car and who did we see but David Wain and Co. also going towards their cars. I got them all to sign my
Wet Hot American Summer
DVD which I happened to have on me...
Over the weekend Ash and I carved pumpkins and made pumpkin seeds.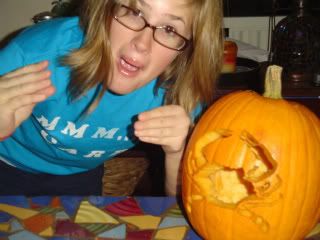 Ash carved/ is a crab (MD!!).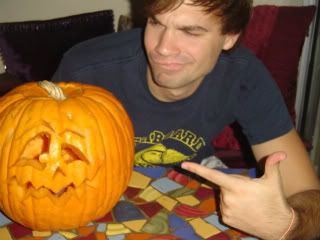 I'm too cool for it but I made a silly face.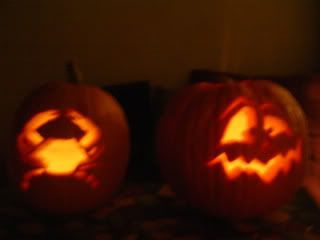 Spooky.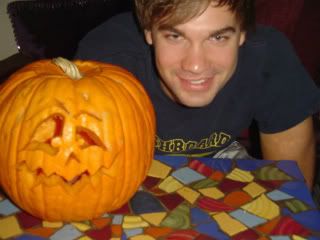 Ash said now take a nice one.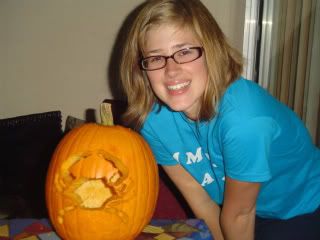 Ash's nice one too.
Ash's roommate had a carving party the next day for girls only so Ash carved a vampire pumpkin too. You would know that if she updated her blog ever.
My "Intervention" job is going well.
I'm supposed to go to Nu-Lite and pick up some stuff this week. I'll let you know about that.
My writing is going really well, I restructured the movie I'm working on for my writing group and it's going to make it so much better.
I'm finally going to start watching "The Wire" all the way through starting with Season 1.
So everything is good, I'm excited to go to Chicago for Thanksgiving, Nashville for Christmas, and PG for New Years.