It's cool when your paycheck says this: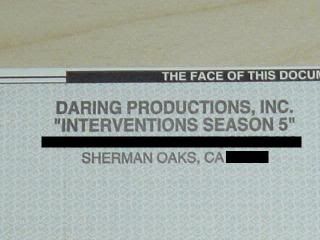 I work for the show "Intervention." Cool. I hope I can swing my transcribing position on "Intervention" into a job on "MTV's True Life," I'm only partly kidding.
Lately I've just been working at transcribing and eBay, going to the gym (I started swimming some again lately) and hanging out with Ash on her days off or my buddy Bryan who is an actor or my roommate and his friends (I played poker with them on Friday night and won, probably pictures on facebook at some point because he was taking pictures often).
Monday nights I eat dinner with Ash and then we got to the gym after.
Tuesday nights I go to a restaurant called Big Wangs for 25 cent wings.
Wednesdays I have my writer's group meeting.
Thursdays Ash and I have been seeing movies (this Thursday we're trying to get into a screening of
Role Models
, the new David Wain movie starring Paul Rudd, McLovin' and Stiffler. I'm pretty sure David Wain commented on this blog after I mentioned "Wainy Days" a while ago. David Wain and Paul Rudd are going to be at the screening so I'm going to try and get my copy of
Wet Hot American Summer
signed. I could try to buy
The Ten
before then too.)
So I'm settling into a pretty good schedule.
I saw Sam Rockwell's big buddy from
Choke
at the gym the other day. His name is Brad William Henke and he was in
Choke
and
Me and You and Everyone we Know
most notably to me. I always see these people and Ash is never there at the time.
I have news about
Johnson Family Christmas
but I'm going to hold off for now.